Exh|bition
Pierre Coric
As We Wrap It Around Those Woollen Wings

17.09.2022 – 05.11.2022


They're everywhere, small, hidden, almost invisible. Moths parasitise our textiles through their larvae, which feed on them. Moths are incredibly resilient and resistant to humankind's persistent battle against them.

On 9 September 1947, Grace Hopper, a pioneering American computer scientist at Harvard University, pasted a moth into the logbook of Harvard's Mark II computer. Next to it, she wrote "Pannel # 70: moth in relay" and below it "First actual case of bug being found". This logbook page is now kept in the Smithsonian Institution's National Museum of American History. It was the first computer bug, which then soon entered the lexicon of programmers and is now used to describe (mostly) mild digital annoyances.

The work of Pierre Coric (°1994, Liège) starts from language and signs, computer science, technology, biology, nature, textiles, sound, ... Collaboration and participation are an important part of his working method. A recurring process in Coric's work is the dissection of complex wholes into elementary building blocks and the search for meaningful patterns between them. It's a search for simplicity as a building block of complexity. In As We Wrap It Around Those Woollen Wings, Coric explores various realms, including biology, textile design, handicraft, computer science, etc.

The centre of the exhibition is a woollen textile work, knitted by means of a home knitting machine controlled by a computer programme coded by Coric. The knitting pattern is a translation of a sheep's DNA sequence, whereby the four molecules that make up a DNA sequence are represented by four basic colours: yellow, red, blue and black. The work only represents the beginning of the full DNA sequence, a fragment. The full code would result in a 125-kilometre-long work that would weigh about 50 tonnes. Coric therefore completes the DNA sequence by translating it into musical phrases that are controlled by a self-developed algorithm, played by a keyboard and displayed visually on the computer.

What interests Coric about knitting and programming – especially in relation to working with DNA – is that both techniques employ a similar set of primordial building blocks and yet, through the power of their combination, offer endless meandering construction possibilities.

There's also a knitted portrait of Grace Hopper, who oversees the installation, accompanied by a knitted informative text about the first computer bug – the moth – discovered by Hopper.

Although the moths are barely visible in the exhibition, they're part of the work. Indeed, Coric makes them co-authors: attracted by the quality wool, the moths will lay their eggs in the wool. After this exhibition, the textile work will be stored in the terrarium (also present in the exhibition), where the larvae will feed on the wool. Who knows, over time they may even cause the sheep to mutate by eating into the pattern. Pierre Coric: "Would we be surprised if they understood genetics and started building sheep to satisfy their own need for wool? Would their actions reveal something else and, as their feeding on this piece is part of the process, would it still be destructive?"

Translated by Sis Matthé


Raadpleeg de NL zaaltekst hier

---
Exh|bition views: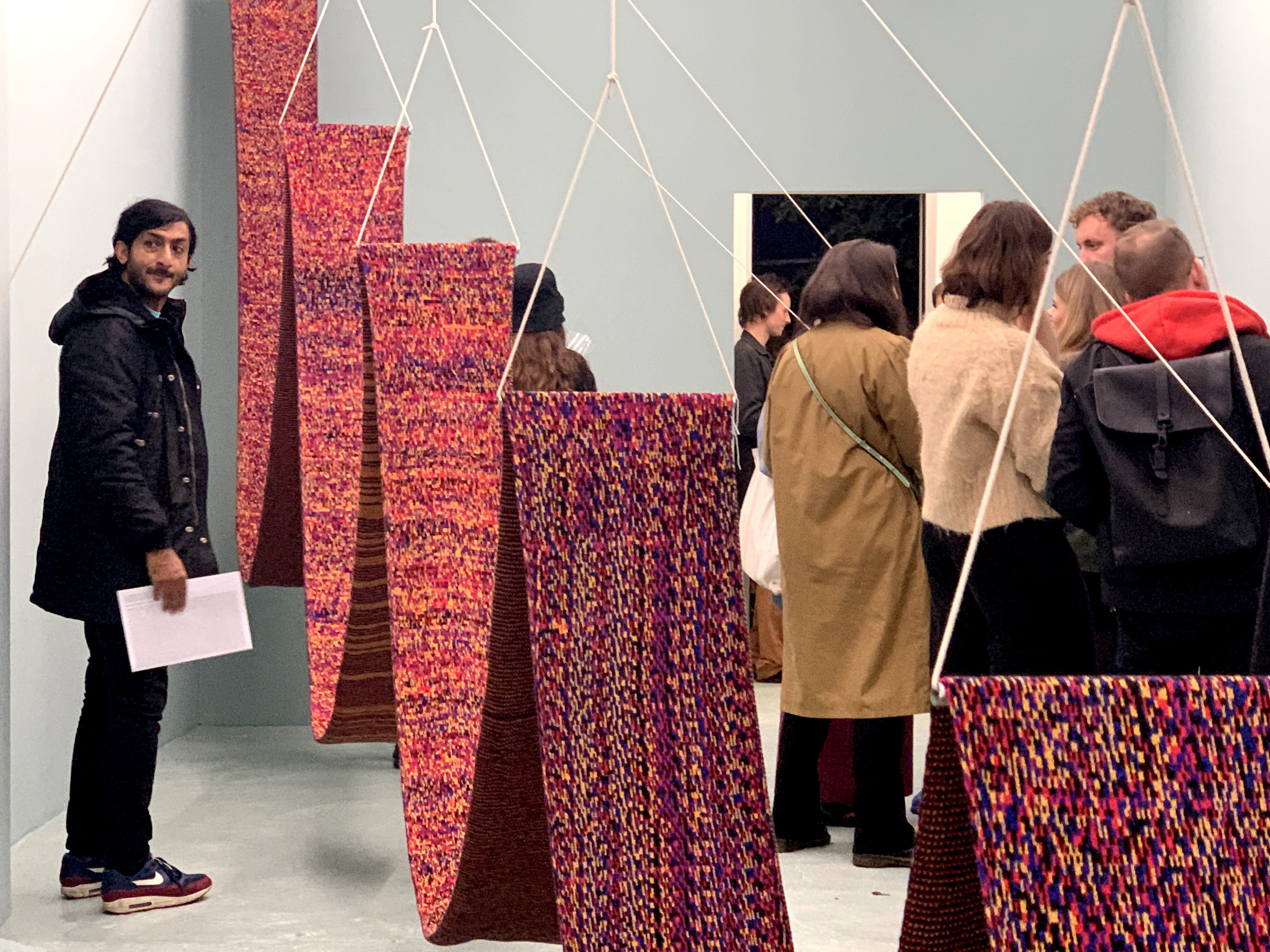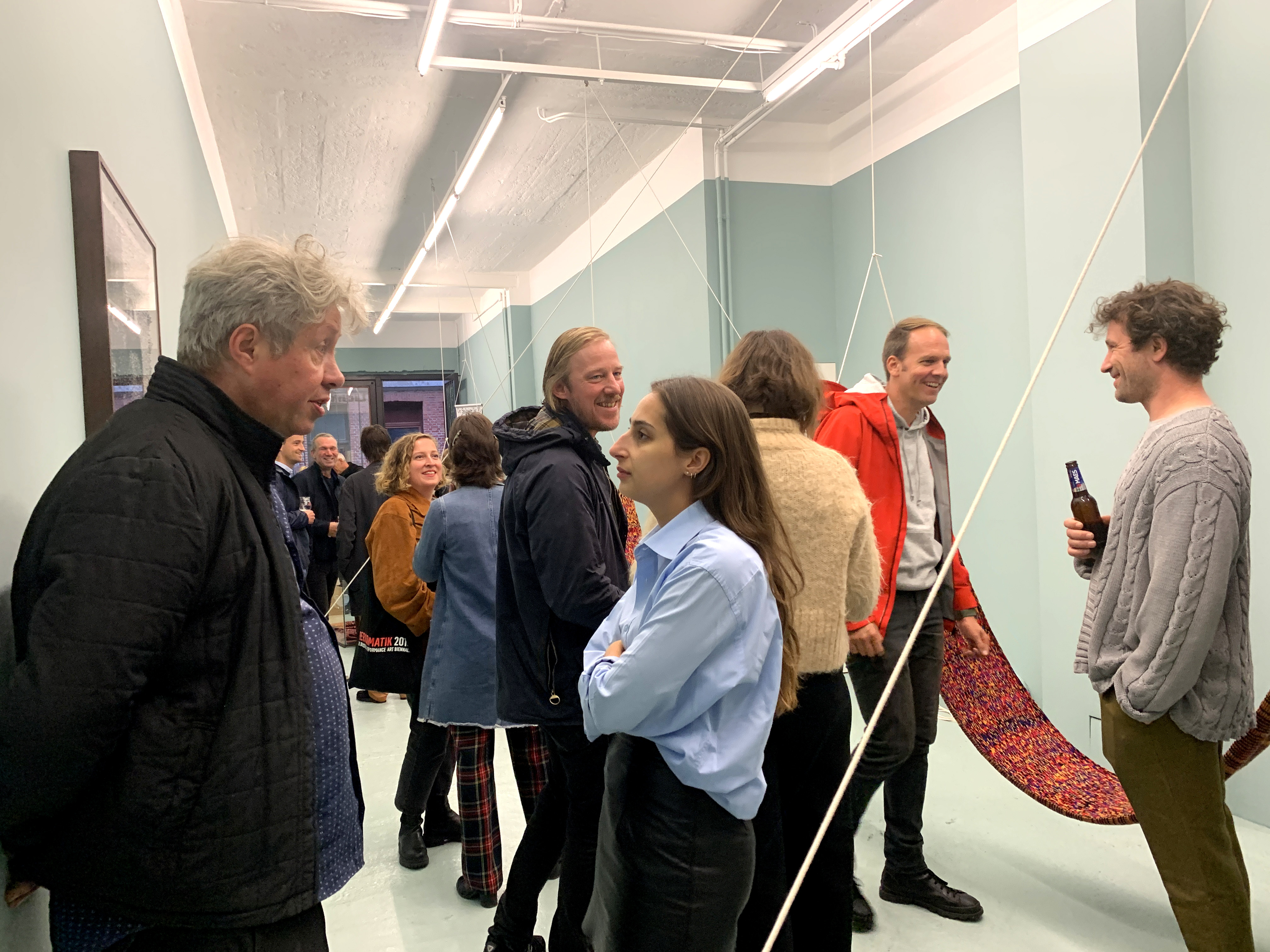 Artist talk: Pierre Coric in conversation with Anna Godzin on 28.10.2022
With a short presentation of PONTON Magazine:
---
Exhibited works:
COmmon Business Oriented Language, 2022, knitted wool, rope, aluminium pipe, 158 x 45 cm
As We Wrap It Around Around Those Woollen Wings, 2022, knitted wool, ropes, aluminium pipes, glass terrarium, wooden lid, 200 x 38 cm First Actual Case of Bug Being Found, 2022, knitted wool, framed, 100 x 68 cm
Music DNA translator, 2022, Python script



Many thanks to sheep Benz 2616, Senne Claes, Annelies Clerix, Kris Cuylits, Yirka De Brucker, Bram Denkens, Gwen De Groote, Carl Haase, Coco Koedooder, Sis Matthé, Hilde Overbergh, Ria Pacquée, Rino Sokol, Tom Van Camp, Ilse Van Roy and Hans Wuyts.

This work was made possible with the help and support of visual artist and knitting-machine owner Ilse Van Roy and her intern Annelies Clerix. Together with Coric, they probed the depths of the knitting machine and operated it, thus sharing in the authorship of the textile work's materiality.

---
With the support of the City of Antwerp