Exh|bition
Clara Spilliaert
Hairy Tale

16.09.2023 – 04.11.2023


Hairy Tale is an in-situ installation based on the analogy between our handling of our body hair and the vegetation in our gardens. Body hair and gardens can equally be understood as borders between ourselves and the outside world, and operate as protective layers. Body hair is a field of tension that exposes the division between human, animal, child, adult and gender. The garden is a terrain to shape conceptions of nature. Both natural growth are manageable and provide a stage on which the owner's identity becomes visible.

Both the intervention on body hair and vegetation in gardens are subject to the prevailing norms of specific cultures. The social pressure to remove one's body hair is increasing and removing unexpected vegetation in the garden and around the house is a common obsession. This phenomenon touches me deeply and encouraged me to create this work.

For Hairy Tale, I created a hilly landscape in clay in Lichtekooi, which upon closer inspection turns out to be a large body. The floor's light blue color makes the figure appear to float on water. The clay islands form body parts that rise above the imaginary water surface. At the bottom of the space is the leg, on which grow black sprites. Next comes the pubic area, the belly and the navel, the breasts, the armpit and finally the face. Various fragile plants, made of fired clay, grow on each island. Some bloom, others have fruits. Many stems have hairy leaves that, because of the scale of the figure, blur the boundary between the body hair and plants. From the scalp grow little stones that continue into the actual garden of the exhibition space.

The figure, comfortable and intimate with itself and the vegetation, stands in stark contrast to the Wall of Hair, exhibited in the passageway to the garden. This work consists of 35 individually framed wax strips with body hair of visitors of the exhibition's opening. The waxing was performed by Lisa Spilliaert, who was dressed as a domina, to emphasize the painful and masochistic nature of the depilation. The strips were framed in anti-root cloth - a black plastic tarp used to prevent weeds from growing in gardens. I also wore a costume made out of this anti-root cloth during the opening to humorously criticize our social oppression of body hair.

Clara Spilliaert 2023


Raadpleeg de NL en JP zaaltekst hier

---
Exh|bition views:
Raadpleeg het NL sprookje hier
---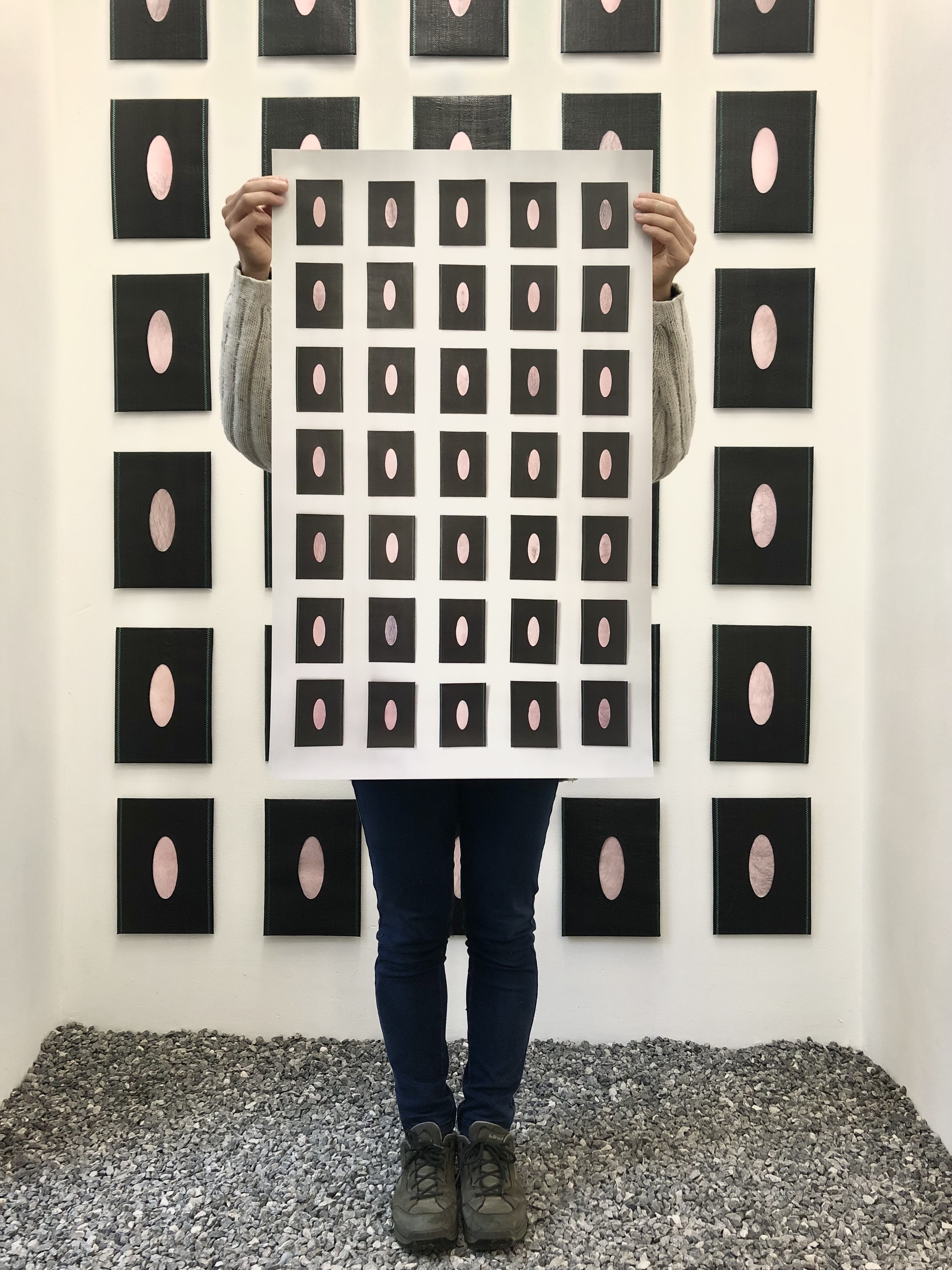 Wall of Hair – Edition

Wall of Hair, 2023
Poster, offset print, 80 x 48,5 cm
Edition, 100 ex.
€15
---
Many thanks to Dorian Baertens, Liska Brams, Maarten Enghien, Chris Hoeben, Bob Mees, Ria Pacquée, Trevor Perri, Tille Ramaut, Femke Segers, Lisa Spilliaert, Vincent Stroep, Jolke Van Aerde, Sietske Van Aerde, Tom Van Camp, Edith Van Den Hoeck, Machteld Vanschandevijl, Helen Vermaercke, Robin Vermeersch, Naomi Zwaenepoel and De Witte Raaf.
Read more on the exhibition in GLEAN and OKV, or listen to the conversation with Clara Spilliaert in Pompidou.
---
With the support of the Flemish government and the Nomura Foundation